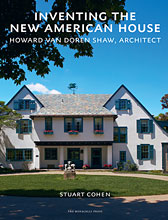 Stuart Cohen on Howard Van Doren Shaw
When: Monday, Sept. 28, 2015, talk at 5:30 pm
Where: AIA Chicago, 35 E. Wacker Dr., 2nd floor
What
: A new book by architect Stuart Cohen, FAIA,
Inventing the American House: Howard Van Doren Shaw,
architect, and a book-signing lecture by Mr. Cohen hosted by AIA Chicago.
Shaw was one of the best-known architects of his generation. His work frequently appeared in "Town & Country", "The House Beautiful", and "The Architectural Record." Architectural critic Herbert Croly, editor of "The Architectural Record", wrote in 1913, "In the first place Mr. Shaw is extraordinarily popular…These houses are charming and inviting to a degree rarely exceeded in American domestic architecture-a fact which justifies Mr. Shaw's success as well as accounts for it.
In 1926, the year of his untimely death, Shaw was awarded the Gold Medal of the AIA. He was only the fourth American architect to be recognized in this way. Shaw's masterpiece, Market Square in Lake Forest, (1916) is on the National Register of Historic Places and was lauded for its design as both a unique town green and the first American shopping center designed for automobiles.
In spite of his reputation, Shaw was dismissed by 20th century historians as one of a group of eclectic architects, and today his work is little known outside the Chicago area. Cohen's lecture will reconsider Shaw's work in the context of 20th century ideas of modernity.
Cost: $5.00 to members, $10.00 for guests.
RSVP: Please contact Judy Freeman: by email:
jrfree3500@aol.com
, or telephone: 773-929-0329