CHARNLEY PERSKY HOUSE DAMAGED BY STORM / FLOODING: HELP NEEDED
Charnley-Persky House experienced serious flooding on Tuesday afternoon. Water poured in through the sink and toilet of the second-floor powder room, on the north side of the house. The water flooded the room and traveled down through the ceiling and walls to the living room library on the first floor and continued on to the basement.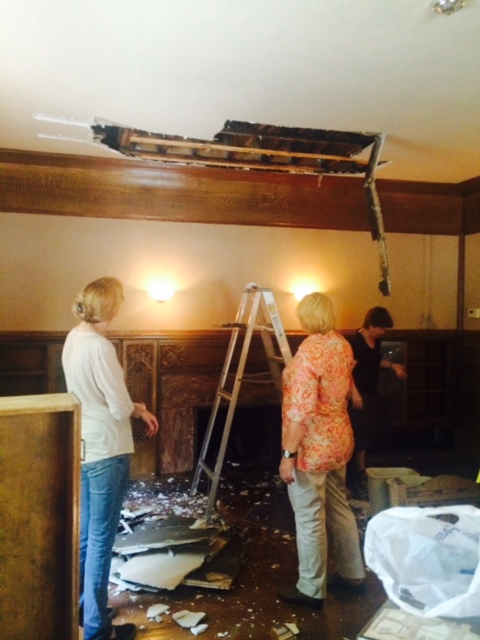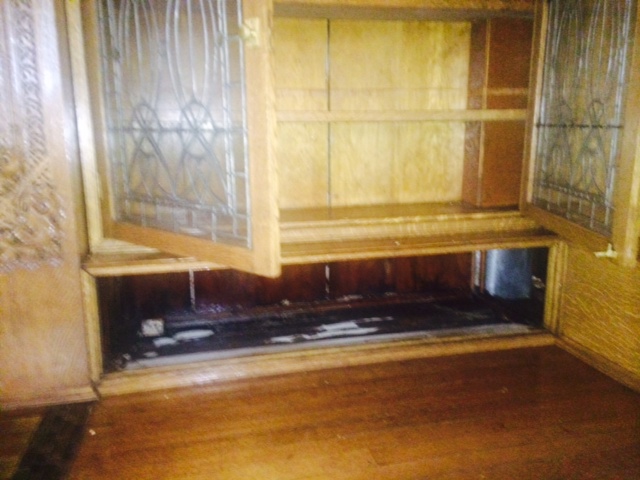 SAH staff tried to mitigate the flooding. Once the flow of water stopped, staff members vacuumed up water from a storage room in the north side of the basement and the flooded powder room. Water had rushed down along the eastern wall of the library, onto Sullivan's ornately carved fireplace surround and enclosed bookcases. The original white oak woodwork and wood floors were dried with rags and towels, but a portion of the ceiling, saturated with water, collapsed from the weight.
Plumbing professionals are on-site and found a blockage in a drainage pipe, which was likely the source of the backflow. SAH is assessing the damage and working with professionals to make repairs. Restoration architect John Eifler is advising SAH as it works to restore the damaged ceiling and walls of the house. Professionals will help dry out the walls and ceiling before plaster and painting restoration can be undertaken.
Cynthnia and Ben Weese have given SAH a $10,000 Challenge Grant for repairs and restoration of CPH. So, every dollar donated up to $10,000 will be matched from the grant.
PLEASE CONSIDER DOWNLOADING THE ATTACHED FORM AND MAKING A TAX-DEDUCTIBLE CONTRIBUTION TO THE RESTORATION.
SAH Chicago Chapter will provide periodic updates, including an estimate for restoration as the information is available.